3 arrested, 1 wanted in Jones County theft ring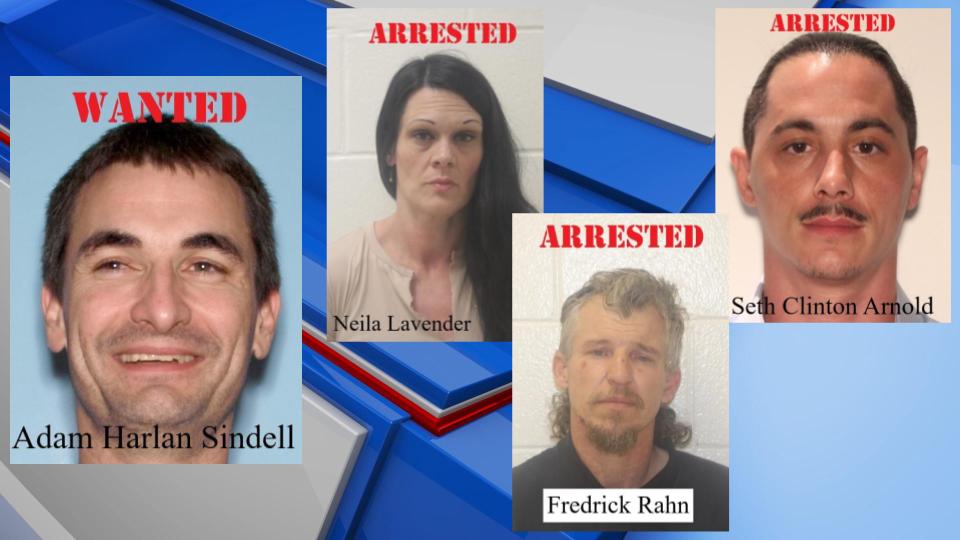 GRAY, Georgia (41NBC/WMGT) — When the Jones County Sheriff's Office took a trip out to a house on Highway 57 to serve a warrant on a man wanted for aggravated assault, they instead came back with several arrests on other wanted people, found stolen trailers, a call to child services, and more.
The incident involving the arrests began when deputies went to a residence on Highway 57 on Monday, January 23rd to serve an arrest warrant on Adam Harlan Sindell, who was wanted for an Aggravated Assault incident that happened earlier in January, as well as a second assault that happened earlier Monday morning between Sindell and another man involved in the situation– Fredrick Rahn.
When deputies arrived at the residence, they met a woman who was also wanted on a warrant for criminal damage to property in the second degree– Neila Lavender. Lavender was taken into custody.
Inside the residence, deputies found another female with some children– due to conditions of the home, deputies called the Department of Family and Children Services to address issues with the children.
While looking over the property, deputies found several trailers that had been stolen out of Bibb County. It was also found that the house was illegally connected to both power and water services. The primary residents of the house were determined to be Adam Sindell, who the deputies were originally looking to arrest when they took the trip to begin with, as well as Fredrick Rahn– the man involved in Sindell's second assault charge.  Neither Sindell or Rahn were at the house when deputies went searching there on Monday, but additional warrants were secured for the assault incident as well as Theft by Receiving and Theft of Services.
As the investigation into the stolen property continued, deputies found that a 3rd man, Seth Clinton Arnold, was also involved– it was then that they also discovered that the theft ring went beyond just Jones County and Bibb County into Twiggs and Wilkinson Counties as well. Monday evening deputies from all 4 agencies went to Aronld's house in Bibb County, as he had several outstanding warrants. As authorities pulled up to the residence, Arnold was leaving in a van– this led to a chase all the way to Wilkinson County, where deputies were able to stop Arnold near the Irwinton city limits and take him into custody. Arnold is facing charges in several counties in relation to the thefts and the chase.
Tuesday morning, Fredrick Rahn– one of the 2 primary residents of the house– was spotted in the Highway 57 area and taken into custody without incident for his outstanding warrants.
Adam Sindell, the one who JCSO was attempting to arrest to begin with, has not been arrested yet. Anyone with information on his whereabouts is urged to call the Jones County Sheriff's Office at 478-986-3489.