Multiple systems to effect Middle Georgia's weather this week
MACON, Georgia. (41NBC/WMGT) – Middle Georgia's weather this week will be effected by multiple systems this week including a hurricane in the Pacific, a cold front and a high pressure system.
Tuesday
There will be more clouds in the sky Tuesday as moisture streams in from Hurricane Willa located just west of the Mexico coastline. Willa is forecast to make landfall today as a Category 3 hurricane. It will weaken as it moves inland, eventually eroding thanks to the Sierra Madre.
Locally, clouds will mix with sunshine in the afternoon, leading to temperatures reaching the mid-70's. An isolated shower may pop-up as well.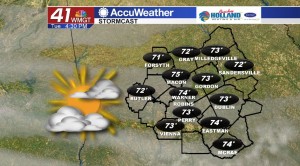 Wednesday
The clouds will clear out overnight through early Wednesday morning as a cold front moves in from the north.
Behind the front, a large area of high pressure will build up over the Great Lakes. This system will give way to more sunshine Wednesday afternoon.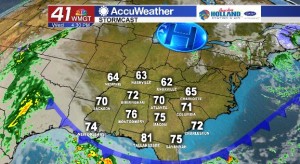 Thursday
By Thursday, the remnants of Hurricane Willa will push from west to east. An associated area of low pressure will form in the Gulf of Mexico with an outstretched warm front ahead of it. The warm front will bring warmer, more moist air into the Deep South.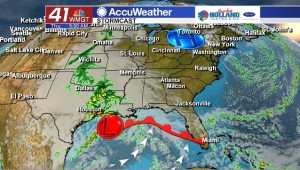 With an increase in moisture across the southeast, showers and storms are more likely to form resulting in scattered rain chances Thursday and Friday.
At the same time, colder air will be flowing south following Tuesday's cold front. For this reason, afternoon high temperatures will drop to the upper 50's on Friday.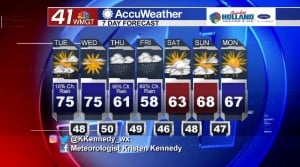 Connect with Meteorologist Kristen Kennedy on Facebook and Twitter for weather updates throughout the day. You can also watch her forecasts Monday through Friday on 41NBC News at Daybreak (5-7 a.m.) and 41Today (11 a.m.).