Hurricane Florence makes landfall near Wrightsville Beach, N.C as Category 1 storm
MACON, Georgia. (41NBC/WMGT) – Hurricane Florence made landfall between Wrightsville Beach and Myrtle Grove, North Carolina Friday morning at 7:15 a.m. At landfall, Florence was a Category 1 hurricane with maximum sustained winds of 90 mph.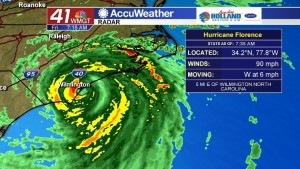 Though landfall comes early Friday morning, the coastal Carolinas have been feeling the effects of Florence since Thursday morning when outer rain bands starting moving onshore.
24 hour rainfall totals from Thursday to Friday ranged from about five inches in Wilmington to almost 10 inches near Morehead City.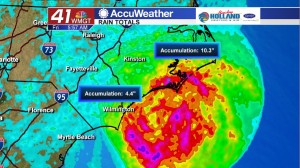 Florence is still expected to stay at Category 1 strength with winds above 74 mph until Saturday afternoon.
The father this system moves inland, the more Florence will weaken. Florence will likely stay at tropical storm status until Monday morning when the tropical system moves northwestward into Tennessee.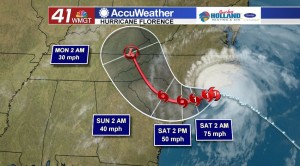 Over the next 24-72 hours, Florence will be moving very slowly over North and South Carolina.
Regardless of the categorical name of this tropical system, the impacts are far more significant.
Catastrophic rainfall is expected in both North and South Carolina, stretching from the coast to inland.
An additioaln 10-20 inches of rain is likely through Monday morning.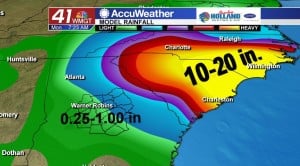 As Florence continues to travel west/southwest Saturday into Sunday, an increase in wind gusts will be felt in the state of Georgia.
Middle Georgia could have wind gusts up to 40 mph Sunday afternoon and evening.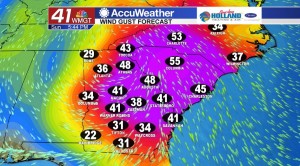 Middle Georgia's main concern this weekend will be potentially damaging winds.
Gusts up to 40 mph could knock some trees over and even create power outages.
Flooding rains will not be a big concern anymore. Some scattered showers and storms will be possible on Sunday, but rainfall totals should not go over one inch.
Also, the tornado threat remains low. However, with any tropical system, you can never rule out an isolated tornado as rain bands move inland.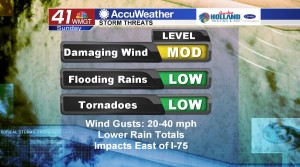 The 41AccuWeather Team agrees that the timeline for Middle Georgia's severe weather threat will be late Saturday through Monday morning.
Wind gusts leading to downed trees and/or power outages is the biggest threat.
To prepare for severe impact, follow Macon-Bibb's EMA guidelines here.
As always, the 41AccuWeather Team will provide you with the latest tropical updates on the air, 41NBC website, Facebook and Twitter pages.