Bibb County Deputies recover stolen ambulance in Downtown Macon
MACON, Georgia (41NBC/WMGT) – Bibb County deputies are looking for the person who stole an ambulance in Downtown Macon.
Deputies say it happened between the evening of Monday, August 27th and morning of Tuesday, August 28th.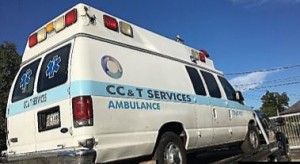 It was taken from CC&T Ambulance Services located on Poplar Street. It was found Sunday, September 2nd, in area close to Old Transco Railway Products on Seventh Street.
If you know who stole the vehicle, or who was in possesion of it, you're urged to call 478-742-2330 or Macon Regional Crimestoppers at 1-877-68-CRIME.