Tropical weather update: Eastern Pacific and Atlantic Ocean
MACON, Georgia. (41NBC/WMGT) – Both the Atlantic Hurricane Season and Eastern Pacific Hurricane Season are underway. The Eastern Pacific season began on May 15 while the Atlantic season began on June 1.
Hurricane Bud was churning the sea west of Mexico Tuesday morning as a Category 4 hurricane with winds of 130 mph. It is expected to move northwest towards Cabo San Lucas, Mexico and continue weakening as it moves inland.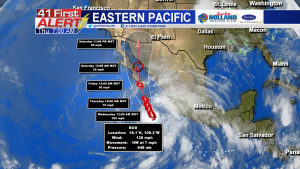 Meanwhile, there is an area of disorganized showers and storms associated with a low pressure system in the western Caribbean Sea.
While the National Hurricane Center is giving it a low chance of formation in the next 2-5 days, there may be potential form development farther out as the system moves towards the western Gulf of Mexico.
The Gulf of Mexico's waters are very warm, and tropical systems thrive off the energy that the Gulf's warm waters provide. This will definitely be a system to watch as time progresses.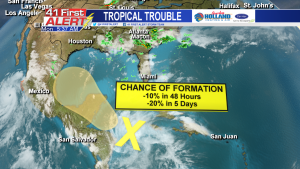 Obviously, Hurricane Bud will have no impact to Middle Georgia as it is on the other side of the nation, in a completely different ocean.
The low in the Caribbean, though, may spin up even more tropical moisture across the southeast. Rain chances will continue daily through early next week. [Watch video link for today's full forecast.]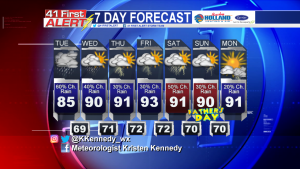 NOAA's Climate Prediction Center has released an outlook for precipitation from June 17-21. There's a higher chance that Louisiana and Texas will receive above average rainfall amounts (most likely due to the tropical low trying to form in the Caribbean). Middle Georgia is forecast to have either a very small chance of above average rainfall or near normal rainfall.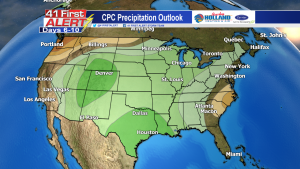 Connect with Meteorologist Kristen Kennedy on Facebook and Twitter for weather updates throughout the day. You can also watch her forecasts Monday through Friday on 41NBC News at Daybreak (5-7 a.m.) and 41Today (11 a.m.).