Hot and dry Monday, cooler and wetter weather this week
MACON, Georgia. (41NBC/WMGT) – A high pressure system managed to keep Middle Georgia dry and hot last week, but that will not be the case this week.
Instead, a low pressure system is developing in the Gulf of Mexico. This system is going to push tropical air into the southeast as it slowly moves northward the next few days.
Scattered showers and thunderstorms will be in the forecast every day following Monday.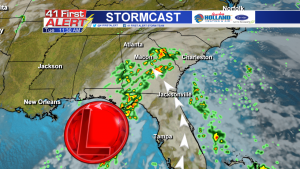 Rain totals through Saturday night could range from three to five inches.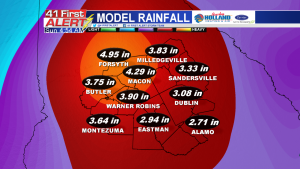 Monday will be the driest day this week. Clouds will mix with sunshine, and temperatures will reach the low 90's.
With a prolonged chance for rain/storms in the 7-day, temperatures will also drop. Highs this week will be closer to average (84 degrees in Macon).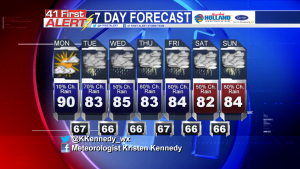 Connect with Meteorologist Kristen Kennedy on Facebook and Twitter for weather updates throughout the day. You can also watch her forecasts Monday through Friday on 41NBC News at Daybreak (5-7 a.m.) and 41Today (11 a.m.).