Workers at Georgia school bus maker Blue Bird vote in favor of United Steelworkers union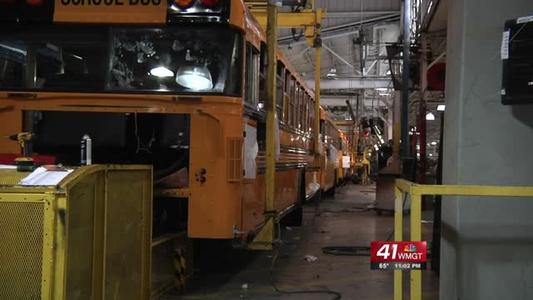 FORT VALLEY, Ga. (AP) — Workers in Georgia at one of the nation's largest school bus manufacturers have voted to unionize.
Employees at Blue Bird Corp. chose to be represented by the United Steelworkers union by a vote of 697-435, according to the National Labor Relations Board.
The vote took place Thursday and Friday at Blue Bird's two factories and warehouse in Fort Valley.
Blue Bird and the union have five business days to file objections. If no objections are filed, the election will be certified and the United Steelworkers and Macon-based Blue Bird will begin negotiating an initial contract.
Blue Bird workers have said they're seeking higher pay, more regular schedules, and better vacation and sick time benefits from the publicly held company, long the largest employer in nearby Peach County.
"We work hard, and we deserve fair pay, safe working conditions and to be treated with respect on the job," Patrick Watkins, a Blue Bird worker who served on the organizing committee, said in a union-released statement. "It was clear that our only path forward was to take our future into our own hands – and that's what we did today when we voted to organize."
Blue Bird had urged employees to reject unionization, saying it was undesirable to interject a union as an intermediary between the company and workers. A company spokesperson did not respond to an email and phone call seeking comment.
It's a big win for organized labor in the traditionally unfriendly Deep South.
The share of workers who are unionized nationwide has been falling for decades, dipping to 10.1% last year according to the federal Bureau of Labor Statistics. And private sector workers are much less likely to be union members, with only 6% paying dues.
Organized labor is an even smaller sliver of Georgia workers, with only 4.4% of workers being union members. That's the eighth lowest union rate among states.
"For too long corporations cynically viewed the South as a place where they could suppress wages and working conditions because they believed they could keep workers from unionizing," United Steelworkers District Director Dan Flippo said in a statement.
USW represents more than 850,000 workers nationwide in a variety of industries.
Union organizers at Blue Bird filed seven formal charges with the National Labor Relations Board alleging that the company's anti-union campaign has stepped over the legal line into improperly threatening and harassing employees.
Blue Bird has gotten $40 million in federal aid to build electric school buses.
The company has declined to comment on the specific charges, but denies doing anything improper or illegal.
U.S. Sens. Jon Ossoff and Raphael Warnock, both Democrats, wrote a joint letter to Blue Bird CEO Matt Stephenson on May 3 urging "free and fair elections."
The company hires general laborers at $16 an hour, and says its average starting wage is $17.69 an hour. Workers say pay hasn't kept up with inflation.
Congratulations to the workers at Blue Bird in Fort Valley, Georgia, on their vote to unionize and join the United Steelworkers. The men and women at Blue Bird are building electric school buses that are powering America's clean energy future, lowering greenhouse gas emissions, and ensuring our kids breathe cleaner air. The fact is: the middle class built America. And unions built the middle class. That's why my Investing in America Agenda is about creating good-paying jobs – jobs that don't require a four year degree, jobs you can raise a family on. Jobs where you get a free and fair choice to join a union.

Where is it written that America can't lead the world again in manufacturing? The workers at Blue Bird, and at companies just like it all over the country, are proving the future can and will be built in America. And union workers will be a big part of that future.