Storms damage homes and businesses in Milledgeville
Residents clean up debris and seek help after storms leave damage and power outages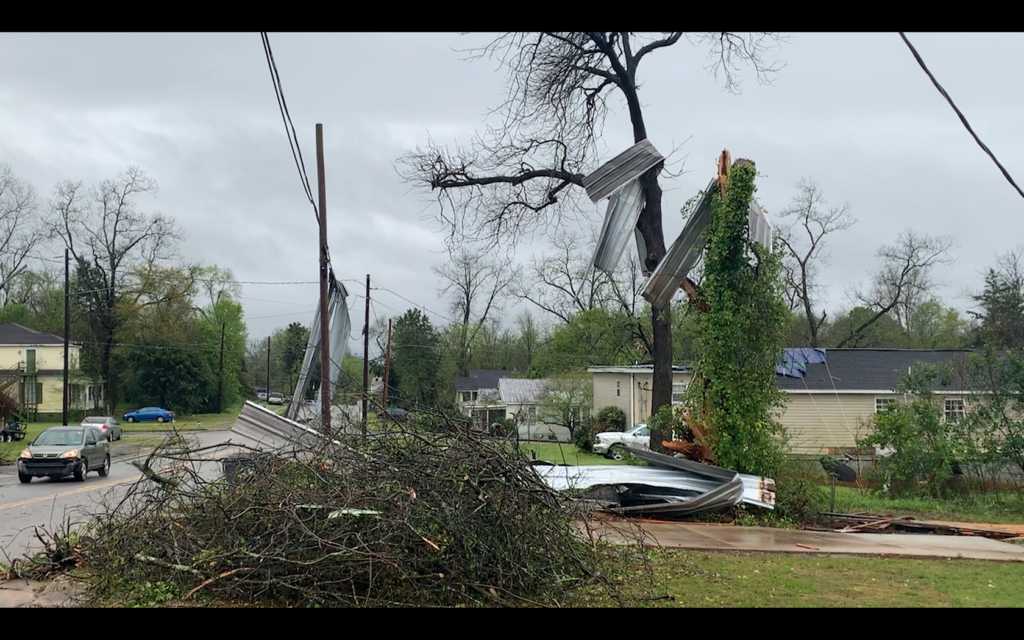 MILLEDGEVILLE, Georgia (41NBC/WMGT) — Milledgeville residents are cleaning up after a weekend of storms left trees down, homes and businesses damaged, and some families still without power. Parts of MLK Jr. Drive and Columbia Street were covered in debris due to the storm winds.
"About 5 o'clock, everything went boom!" resident Emmett Robbins Jr. said. "And I was like, 'What's going on with that?' Then the power went off. Then the wind just blew everything away."
Milledgeville City Manager Hank Griffeth says more than 300 residents lost power after storms brought down power lines on Highway 22. The strong winds also caused moderate damage to Atrium Health Navicent Baldwin.
"The cancer center next to the hospital on the hospital campus, I think it pretty much lost its entire roof," Griffeth said. "So that was the building that was most damaged on their campus."
Atrium Health Navicent Baldwin made a statement about the damage:
"Thanks to the hard work and dedication of our teammates and community partners, Atrium Health Navicent Baldwin has made significant progress in assessing and repairing facility damage so we can provide the health care Milledgeville and the surrounding area needs during this period of storm recovery," it read.
Griffeth confirmed no deaths or injuries have been reported. He says the city is working with the Baldwin County Emergency Management Agency to clean up the damage.
"The main priority is clearing roads and removing debris," EMA Director Wayne Johnson said. "And they'll move forward with that as weather permits clearing right away."
Griffeth says he's grateful everyone stayed safe during the storms.
"We are very happy and blessed that it was no worse than it was in terms of harm and fatalities and injuries," Griffeth said. "We're sorry for those who experienced property damage, but we're going to work with you to get you through it, and we're just looking forward to getting our community back in the next couple of weeks."
Baldwin County EMA is working with the American Red Cross Disaster Relief to set up a shelter located at Walter B. Williams Recreational Park on Highway 22. If you need to stay, or if you need help, call 1-800-REDCROSS.