Local law firm donates hundreds of free meals, supplies to Milledgeville residents impacted by tornado
Forrest B. Johnson and Associates provides aid to the community after a devastating tornado.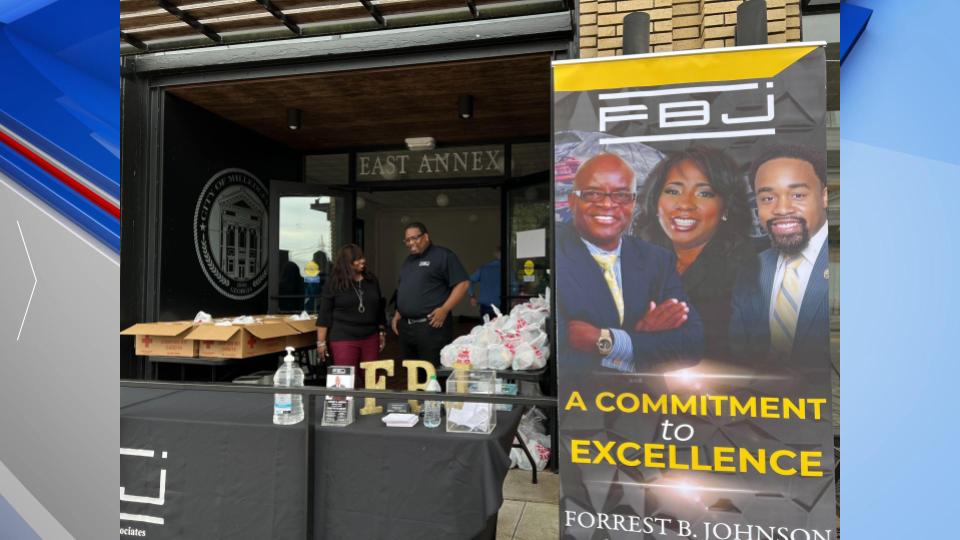 MILLEDGEVILLE, Georgia (41NBC/WMGT) – A local business gave away hundreds of free meals and emergency supply kits to a community recovering from destruction caused by a tornado.
Dozens of cars lined up in front of the East Annex building in Milledgeville Wednesday to receive meals distributed by the Forrest B. Johnson and Associates law firm. Attorney and President of the firm, Forrest B. Johnson, jumped into action when he heard Milledgeville had been struck by a tornado.
"When I saw the devastation left by the tornado, I probably within 24 hours of that contacted my office and said, 'What can we do?'" Johnson said.
The law firm spent an estimated $15,000 to provide food, drinks and care packages for the city. Meals were prepared by S&S Cafeteria, and care packages provided by The Red Cross included deodorant, shampoo and tooth brushes.
Milledgeville Mayor Mary Parham-Copelan was away from the city when the tornado hit. Though devastated by the destruction, she expressed her gratitude for Johnson's efforts.
"With him stepping up, helping us out, making sure we're taking care of the under served, those that's been through the destruction of this tornado, it's just floored me," she said.
Milledgeville resident Cassandra Pitts, who came to receive a meal, said she was just five blocks away from the path of the tornado.
"Our lights went out for 11 hours, and I had food that spoiled in the freezer and refrigerator," Pitts said. "But, I thank God no one was hurt in Milledgeville. No fatalities, and I thank these great people for donating, Forrest B. Johnson, for donating this to us. We need it."
Johnson says Milledgeville is an extension of where he calls home. He says this service to the community couldn't have happened without the support of his team and help from volunteers.
"I think that if you've been blessed to have, I think the greatest next blessing that you could have is to give," he said. "And to reach out to those who are not quite as fortunate as you are, especially in a time of need."