Bill that could let Buckhead split from Atlanta advances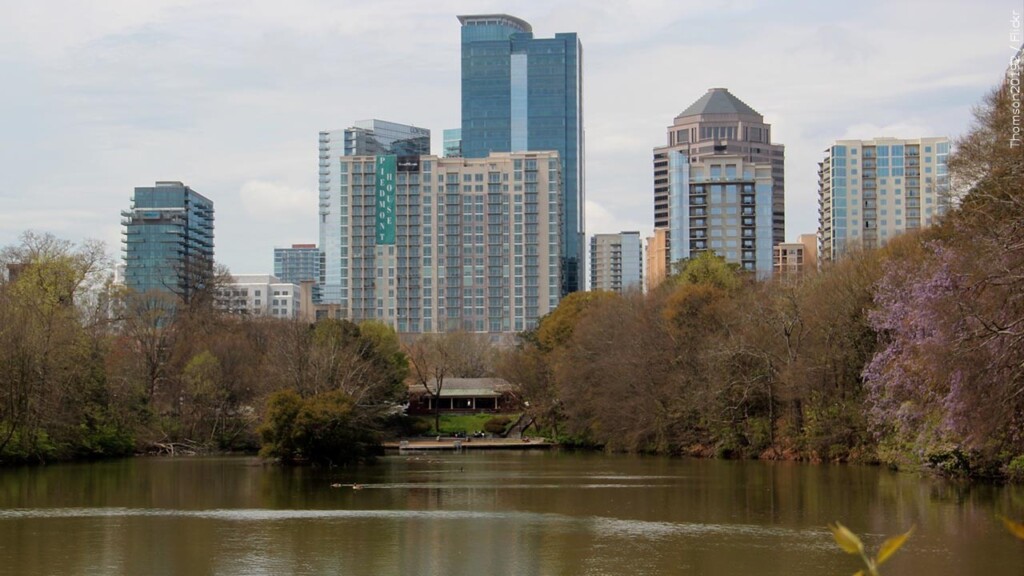 ATLANTA (AP) — A Georgia Senate committee has approved two bills that could allow the Buckhead neighborhood to secede from the city of Atlanta, the first time that an issue freighted with fears about crime and racial and economic division has moved forward in the General Assembly.
The Senate State and Local Government Operations Committee's Republican majority pushed Senate Bills 113 and 114 through on 4-3 votes Monday, sending them to the full Senate for more debate.
Despite the step forward, prospects remain uncertain for the measures, which are bitterly opposed by Atlanta's business community and the city's overwhelmingly Democratic lawmakers.
Some residents of the city's whitest, most affluent area are trying to pull out of Atlanta and form Buckhead City, saying Atlanta isn't doing enough to control crime and that affluent Buckhead residents aren't getting their money's worth from municipal services.
Resident Kelly Rodts, a Buckhead City supporter, told the committee last week that "Atlanta taxes us to the nines" but that city police have failed to stop both petty and violent crime.
"This violence has reached a tipping point, and that is why we are all here today," Rodts said. "Buckhead is a target. We're a target for criminals in the city, and Atlanta has not been able to protect us."
But opponents say a new city wouldn't be able to stop criminals from coming to the area. They also say the plan doesn't deal with major issues and could make crime worse by weakening the remaining parts of Atlanta.
"What is happening today is my constituents are being forced to eat a half-baked pie," Sen. Jason Esteves, an Atlanta Democrat on the committee, said Monday before the vote.
He and others argue that although supporters of the new city are organized and noisy, they represent a minority of residents in the area, and that lawmakers should spurn a divisive campaign. They pointedly note that none of the sponsors represent the city of Atlanta.
But Sen. Randy Robertson, a Cataula Republican sponsoring the bills, says he's championing the rights of citizens unfairly being ignored. He's pointedly called on Atlanta Mayor Andre Dickens to meet with leaders of the Buckhead City Committee.
"Too many times inside this building and especially outside this building in local communities, elected officials forget who they work for. So when movements happen that remind elected officials who the real bosses are, then I have to support that," Robertson said.
Robertson likens creating Buckhead City to incorporating any other city. Suburban Atlanta has seen a wave of incorporations since 2005. While the legislation was bottled up last year, new Republican Lt. Gov. Burt Jones supported it while serving as a state senator and has allowed the bills to move forward.
"I've been down here 10 years and we've voted on referendums to create new cities around the state," Jones said in a statement. "I'm not going to shut down the conversation. We'd be doing ourselves a disservice if we didn't allow the process to try to play out. That's what the legislative process is all about."
Opponents say taking apart an existing city is much more complicated than creating a new one, and that it's even more complex to dismember Atlanta, which has its own school system and extra layers of local taxes and debt. Buckhead City proponents want a system whereby the new city would collect taxes and send them to Atlanta Public Schools, and the school system would continue to serve Buckhead. However, it's unclear such a setup would be legal or feasible.
The legislation calls for the new city to be able to buy parks, fire stations and other city-owned buildings including schools for cheap prices, on the theory that Buckhead taxpayers have already paid for the assets. The new city could also buy Atlanta's water and sewer lines serving the area. Buckhead would get a head start in paying for those items because the legislation would give Buckhead City a share of Atlanta's cash. The new city would take on some bond obligations.
Opponents warn the divorce will give bond investors heartburn that could affect the municipal debt of every city in Georgia. When the Eagles Landing area was allowed to vote and ultimately rejected seceding from Stockbridge in 2018, bond rating agencies warned that splitting up cities was a risk for investors in all Georgia city bonds.
"Credit ratings and the municipal bond markets would be severely harmed in the state of Georgia," Ruchi Patel, a lobbyist for the Georgia Municipal Association, said Feb. 16.