Annual Cherry Blossom Festival Car windshield painting returns
Peggy Whyte has been painting for the Cherry Blossom Festival for 32 years.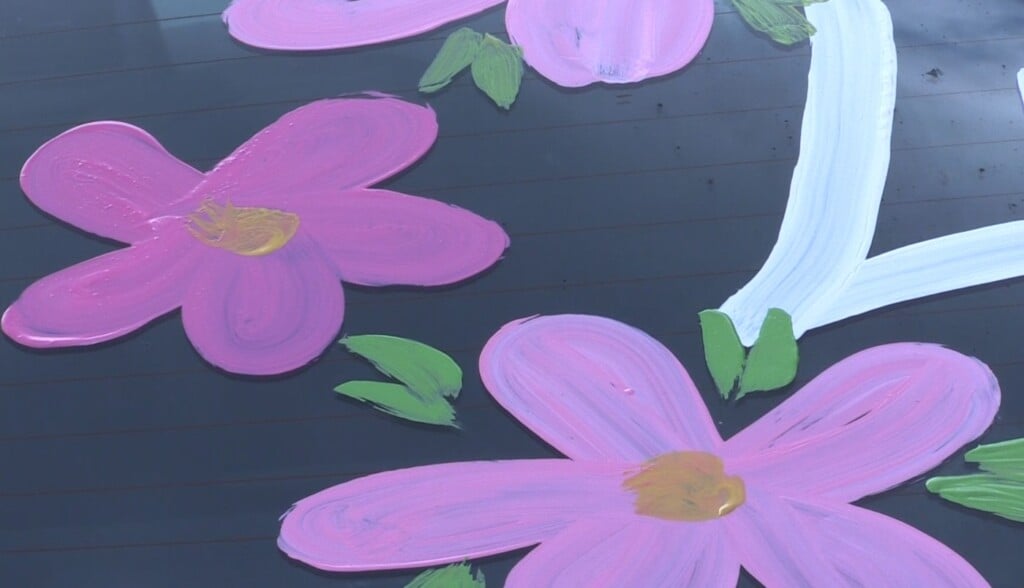 MACON, Georgia (41NBC/WMGT) — The Cherry Blossom Car windshield painting is an annual family event hosted by Peggy Whyte and her daughter. Whyte has been painting for the Cherry Blossom Festival for 32 years, including painting a lot of the designs on the windows of buildings for the festival.
Whyte says when she first started the windshield paintings, it was a much longer process than it is today.
"It's not as crowded as it used to be when we were just doing one flower, one front one and one on the back, and the Pink Ladies were advertising and putting out flyers," she said. "People would come in at Riverside Drive at the Red Lobster entrance, drive all the way around where the school is, and come up into where ACME Paint is in two lines. They would wait for three hours."
Since those days, Whyte says the process is much quicker and more enjoyable for everyone. Prices for getting a windshield painted range from $5 to $50. They're able to do simple cherry blossoms, poodles, trees and family trees. Whyte explained what she loves to paint the most.
"This is my signature flower," she said. "I know it doesn't look much like a cherry blossom, and it's much pinker, but that's my signature from 31 years ago, so I keep with that, but every year we try to do a little different."
When the Cherry Blossom Festival is over, Whyte mentioned people will keep some of her designs on their cars. When you're ready to remove the paint,  she says just use Windex and a scraper. For fresh paint, she recommends spraying immediately. For older paint, she says to spray down and wait about three to four minutes before scraping.
You can rest assured the artwork will bring a splash of pink to your car just in time for the festival.
The first windshield painting is this Saturday, February 25 from 9 a.m. to 5 p.m. at the ACME Center on Riverside Drive in Macon. Additional paintings are on March 4 and 11 during the same times.
If you'd like to learn more about the event or Whyte herself, you can head to the Cherry Blossom website or Whyte's Facebook page.