Kristen Kennedy
Email Kristen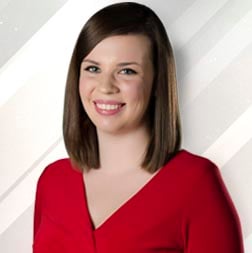 Kristen Kennedy joined the 41NBC First Alert Storm Team in May 2016. Kristen is not new to the state of Georgia – she was born and raised in Roswell, just north of Atlanta.
Kristen developed a passion for weather at an early age – as early as the third grade! Her excitement and interest in meteorology continued throughout her years of higher education. Kristen graduated Summa Cum Laude from Mississippi State University, where she earned a Bachelor of Science degree in Geosciences, concentrating in Professional Meteorology with Broadcast Emphasis. She also has a minor in Broadcast Communications.
In college, Kristen was a member of the broadcast meteorology program's Campus Connect Forecast where she produced and recorded forecasts weekly, reported weather hits for radio, wrote forecast updates for the student newspaper and worked extensively on social media. She also won 2nd Place in the College Mississippi Associated Press Broadcasters awards banquet for the Best College Weathercast.
Aside from her time forecasting the weather in college, Kristen also interned at WSB-TV, a local news station in Atlanta, during the summer of 2015.
When she's not monitoring weather conditions, Kristen is probably talking or watching sports. She grew up watching her brothers play and even got involved in a few sports herself. Kristen loves college football, though she is biased towards the SEC. She notes that Saturdays down south in the fall are arguably some of the best days of the year. She has always been an Atlanta Braves fan, and she also enjoys watching the Atlanta Falcons and the Atlanta Hawks battle it out against their opponents.
Kristen also loves the outdoors and exploring new locations to hammock with a view. She constantly has an eye to the sky, and eagerly awaits sunset each day – hoping for a colorful sky to capture with her camera. She is excited to finally experience some beautiful sunrises now that she's working the morning side of the day.
You can catch Kristen's forecasts daily on 41 Daybreak from 5-7 AM and on 41 Today at 11 AM.