Karlisha Booze
Email Karlisha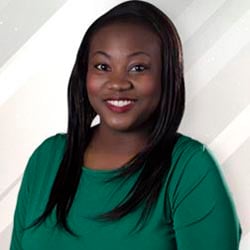 (478) 745-4141 ext. 303
Karlisha Booze joined the 41NBC news team in October 2013 as the producer for 41 TODAY. A year later, reporting for Channel 17, the Bibb County School District channel, was added to her responsibilities.
Born and raised in Macon, Karlisha is proud to be in her hometown doing what she loves to do.
Karlisha's passion for news began in elementary school where she anchored the school's morning news and got an opportunity to try out for the Junior Journalists at WMAZ. She also performed in commercials with Kids Voting Georgia, for Bibb County and Cox Communications.
Prior to working at 41NBC, she was a news intern at WGXA and was later hired as a production assistant and worked as a fill-in anchor/producer for the station's morning news broadcast.
Karlisha graduated from Middle Georgia College in 2009 with an Associate of Arts (Communications), from Fort Valley State University in 2011 with a Bachelor of Arts (Mass Communications), and from Ashford University in 2014 with a Master of Arts (Organizational Management). She is currently pursuing a Doctorate focusing on Business Administration.
In her free time, she enjoys writing poetry and spending time with family and friends, especially her son, Ka'Dence.
If you have any story ideas, please pass them along!